Lorenzo Pingitore. Parmenide
Project Room | 7 March - 6 April 2019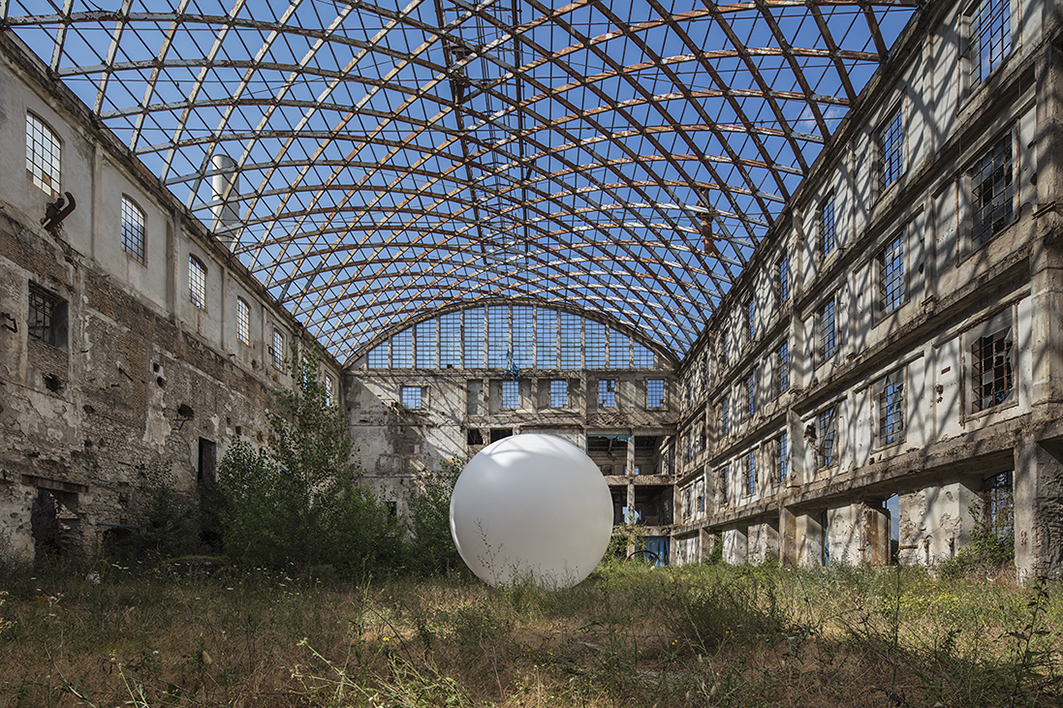 Parmenide, a personal exhibition by Lorenzo Pingitore (Turin, 1985), curated by Walter Guadagnini and Giangavino Pazzola, will be displayed in the Project Room of CAMERA and open from 7 March to 6 April 2019.
The young photographer from Turin presents an unpublished collection of nine large images that immortalise a large sphere, with a diameter of 4.5 meters, found within various environments and types of architecture. Each landscape seems to converse with the solid object, enhancing its ability to alter our perception of the environment. Despite being stationary, in each photograph these subjects create a single dynamic whole that will last over time thanks to the ability of the medium of photography to capture a moment in time in an image.
In Parmenide (2018), the photographer creates digital shots through which he reflects both on photographic language and the human being: using the philosophic thought of the Greek philosopher of the same name as a starting point, complexity and changes in the physical world are illusions, while the uniqueness and static nature of 'being' remain unchanged. Man transforms places with his presence, and not the other way around. At the same time, Pingitore tells of his travels to known and lesser-known places in Italy, where he documented different types of landscape: from archaeological to industrial, from cultural to natural. The Palazzo del Lavoro in Turin, the Green Lake in Bardonecchia, the Villa Pisani in Stra, an old sugar factory in Avezzano and an abandoned industrial area in Terni are just some of the spots that make up a collection of places that all have the sphere in common.
The exhibition is under the patronage of: Ministero per i Beni e le Attività Culturali (Ministry of Culture and Heritage) – General management of the Musei Polo Museale del Veneto, Villa Pisani Museo Nazionale and Riserva Naturale Regionale Monterano (Regional Nature Reserve of Monterano).
Entry to the exhibition is free.