Dorothea Lange. Racconti di vita e lavoro
19 July – 8 October 2023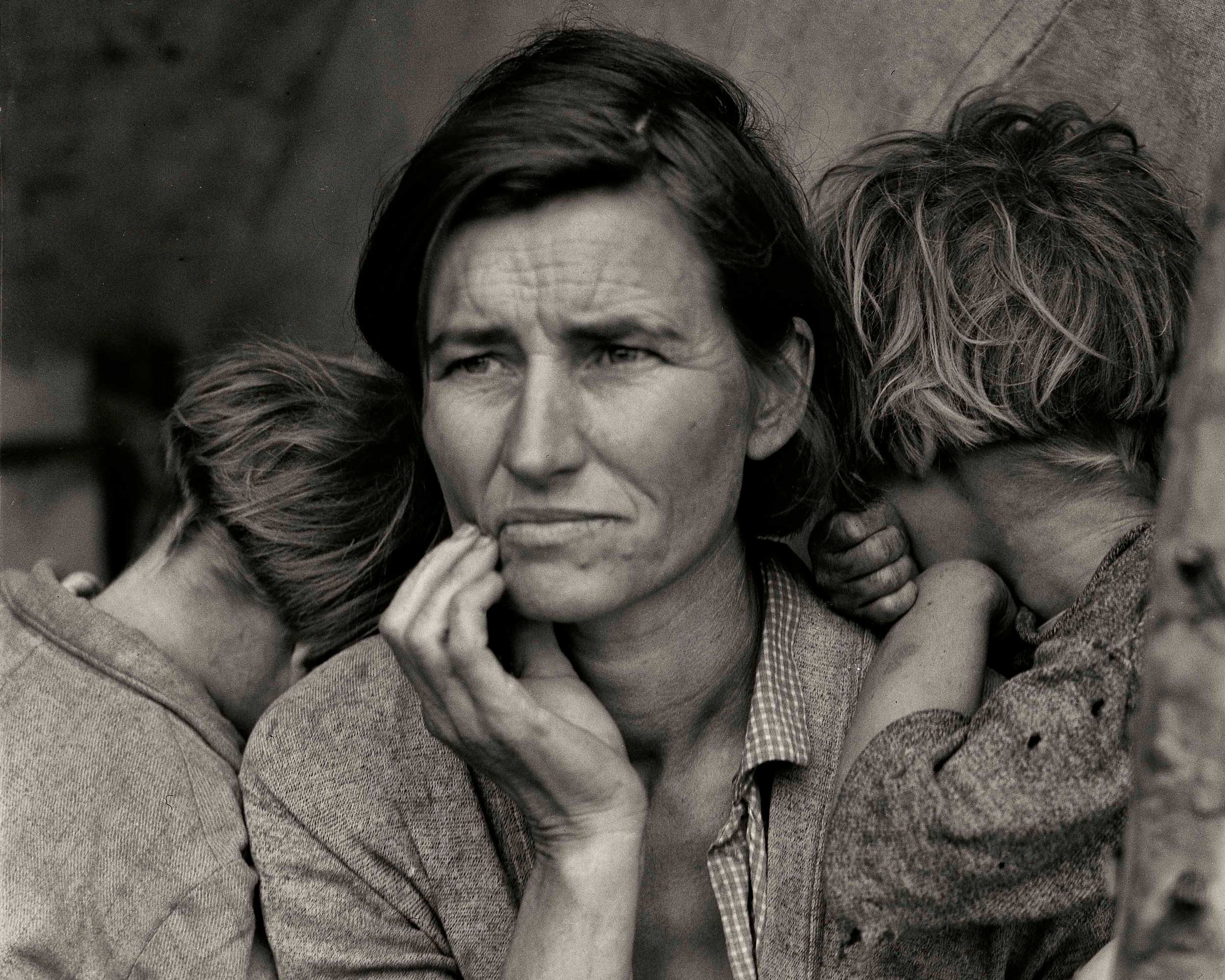 The exhibition Dorothea Lange. Racconti di vita e lavoro (Tales of life and work) – curated by CAMERA's artistic director Walter Guadagnini and curator Monica Poggi – consists of more than 200 images and presents the career of Dorothea Lange(Hoboken, New Jersey, 1895 – San Francisco, 1965), an author who was, to use John Szarkowski's words, "a social observer by choice and an artist by instinct."
The exhibition, displayed from July 19 to October 8 at CAMERA in Turin, focuses on the 1930s and 1940s, this being the high-point of her activity. During this time, she documented historic events that changed the economic and social structure of the United States. In fact, between 1931 and 1939, the southern United States was hit by severe droughts and continuous sandstorms. These events weakened agriculture and forced thousands of people to migrate. Dorothea Lange is part of the group of photographers commissioned by the Farm Security Administration – a government agency charged with promoting New Deal policies – to document the exodus of farm workers seeking employment on the large Central Valley plantations.
Climate crisis, migrations, discriminations. Many decades separate us from these images; nonetheless, the themes addressed by Dorothea Lange are of absolute topicality and provide food for thought and opportunities for debating the present, not to mention the fact that they shed light on a crucial milestone in the history of 20th-century photography.
Thanks to the exhibition, Turin citizens and tourists have the unmissable opportunity to question the present and learn more about the author of one of the most iconic images depicting motherhood and dignity of the 20th-century.
A catalog published by Dario Cimorelli editore will complement the exhibition.
After the first stop at CAMERA, the photographs will be exhibited at the Museo Civico in Bassano del Grappa as of October 21.
Radio Monte Carlo is the official radio of the exhibition.
Dorothea Lange
Dorothea Lange took up photography in 1915, learning the technique through courses taught by Clarence H. White at Columbia University. In 1919, she opened her own portrait studio in San Francisco, an activity she abandoned in the 1930s to devote herself to socially oriented research and to document the effects of the Great Depression. Between 1931 and 1933, she made several trips to Utah, Nevada and Arizona. In 1936 she joined the Farm Security Administration (FSA). Within this momentous project she produced some of her most famous reportage, despite some disagreements with Roy Stryker (head of the FSA's information division) over her own stylistic choices. In 1940, she was awarded the Guggenheim Fellowship (a major award granted annually, since 1925, by the U.S.-based John Simon Guggenheim Memorial Foundation to someone who has demonstrated outstanding ability in cultural or artistic production). In the early 1950s she joined the editorial staff of Life and devoted herself to teaching at the San Francisco Art Institute. She died in 1965, just months before a major exhibition she was preparing at the Museum of Modern Art in New York. Recent exhibitions include Politics of Seeing at the Jeu de Paume in Paris in 2018 and Words & Pictures at MoMA in 2020.