Salvatore Vitale. How to Secure a Country +
Project Room | 3 November - 12 December 2021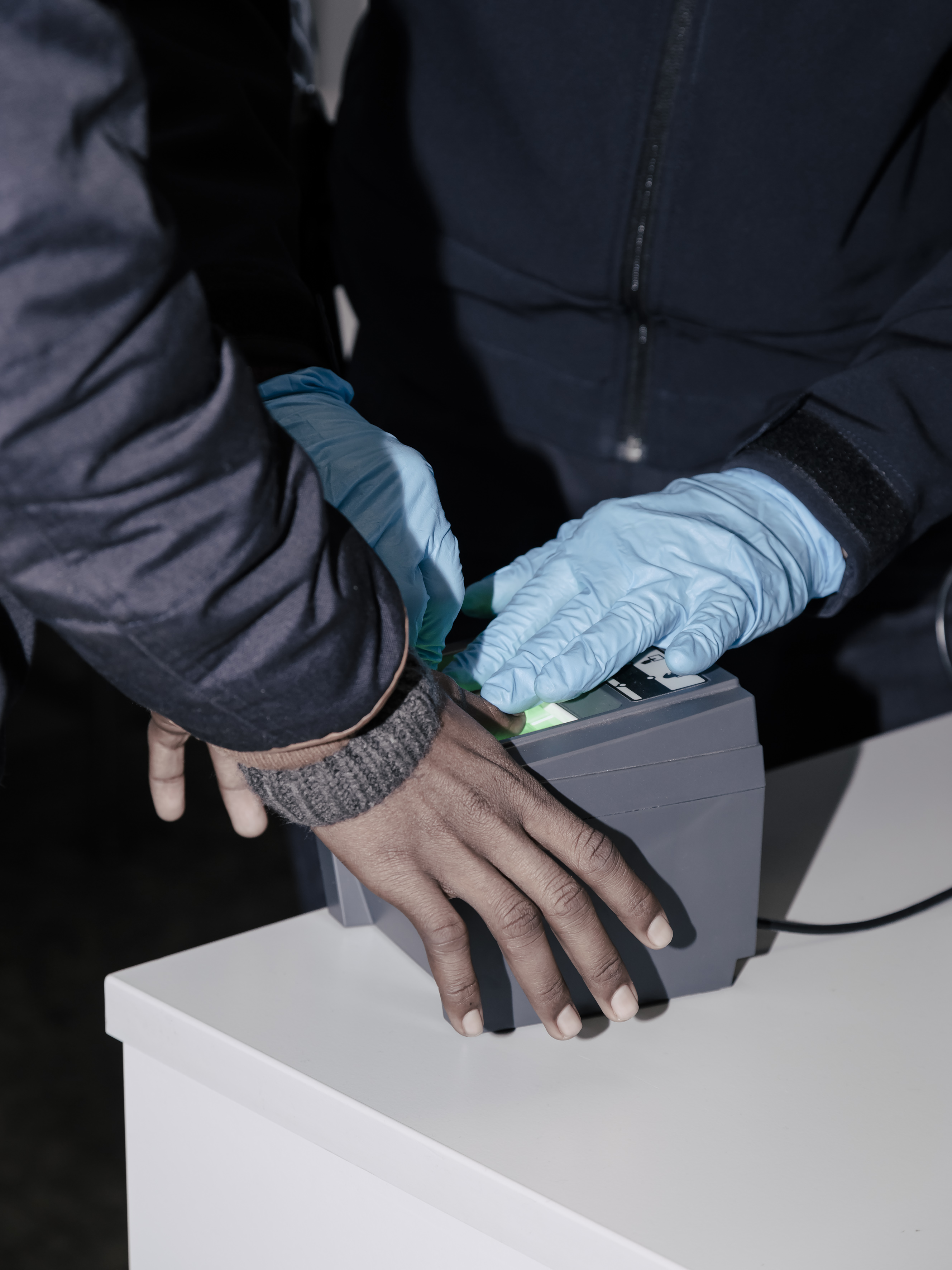 On 3 November 2021, in CAMERA's Project Room, How to Secure a Country + will open to the public: the first solo exhibition by Salvatore Vitale (Palermo, 1986) to be held in an Italian institution. Investigating various ways of representing power in the contemporary world, the exhibition offers a reflection on politically and socially connected themes: bodies and their scope for movement, physical and digital barriers, the visibility and invisibility of authorities, as well as social control in its various forms. A partnership has been set up for the occasion with OGR Torino, which will host one of Vitale's installations in its venue at Corso Castelfidardo 22 during the Turinese Art Week.
The exhibition itinerary, curated by Giangavino Pazzola, consists of more than forty works created using various media from two different sets, each relating to one of two long-term research projects carried out by Vitale since 2014. Most of them belong to the series How to Secure a Country + (2014–2019), a neutral and uncritical account of the Swiss national security system explored from the inside. A representation that eschews the temptation to adopt a reportage approach, and instead focuses on a cataloguing one, rich in descriptive and – at the same time – enigmatic details. Articulating his discourse through various chapters, Vitale paints a complete picture of a state's security system, leading the viewer to reflect on the idea of protection in the relationship between authority and the individual.
Completing the show, Salvatore Vitale will hold a public speaking on the 25 of November at CAMERA and a theoretical-practical workshop on 26 and 27 of November, The Narrative Impulse in which he will lead participants in the creation of a narrative project put together through the combination of photography with various media such as sound, video, social media platforms, the web and archive images. For further information and enrolment, visit www.camera.to.
How to Secure a Country + is part of the show cycle Passengers. Racconti dal mondo nuovo | Tales from the New World, which CAMERA has dedicated to those mid-career artists who best represent examples of innovation in the contemporary visual language.
The exhibition is held with support from the Fondazione Svizzera per la Cultura Pro Helvetia, staged in collaboration with OGR Torino and the Ncontemporary Gallery in Milan.
Salvatore Vitale
Salvatore Vitale (1986, Palermo, Italy) is a visual artist, curator, publisher and teacher based in Zurich, Switzerland. His research is focused on the development and complexity of modern societies, exploring its power structures, technological mediation and the influence of these elements in society, while drawing on a wide-ranging documentary analysis, including elements of fiction, narrative speculation and the use of multiple visual forms. In 2015, he received a prize from the Swiss Arts Council for the long-term project How to Secure a Country (2014–2019), on the provision of security services in Switzerland. Once complete, the project was published by Lars Müller Publishers (2019). His work has been displayed in major international centres such as Fotogralleriet Oslo (2020); Fotostiftung Schweiz, Kibla Contemporary Art Space, Maribor, Foam Photography Museum Amsterdam, Deutsche Borse Photography Foundation (2019); OCAT Shenzhen, MOCAK Museum of Contemporary Art, Krakow and Swiss Foundation for Photography Winterthur (2018); and T3 Photo Festival Tokyo (2017).
Vitale was co-founder and editor in chief of YET magazine: an international journal focusing on the evolution of photographic practices in the field of contemporary art. Furthermore, he has contributed to and edited various other publications, such as RESET: Questioning The Image, The Market and The Role of Representation (2021). He was recently awarded the Swiss Arts Council Pro Helvetia Grant (2020) and acclaimed Bally Artist of the Year (2021). Vitale is also a teacher at the Lucerne University of Applied Sciences and Arts (HSLU), where he directs the Transmedia Storytelling programme.